Megazone Cloud establishes "Sejoong Cloud", a cloud joint venture with Sejoong.
This joint venture between Megazone Cloud and Sejoong is expected to launch this year. This will be Megazone Cloud's fourth joint venture.
It is expected that Megazone Cloud will hold 70% stake in "Sejoong Cloud" and Sejung will hold 30%.
On the 31st of last month, Sejoong Cloud (working name), an affiliate of Sejoong, announced that it would transfer 280,000 shares to Megazone Cloud. The total amount of shares is 157.5 billion won.
After the transfer, they own 30% of the shares. The company explains that the purpose of the transfer was to respond quickly to changes in the market environment, such as the growing growth of cloud business, and to secure investment resources.
Last June, Sejoong, a travel agency, established a new company, Sejoong Cloud (working name), through a physical division of its software business to promote new business.
Megazone Cloud and Sejoong will cooperate to develop the MS Azure cloud market. Sejoong Information Technology, a subsidiary of Sejoong which was acquired last year, has been providing MS product licenses and solutions to enterprise customers as an MS partner for 20 years.
Megazone Cloud expands the scope of its cloud technology support by establishing joint ventures with large enterprises. In addition to this, it paves the way to expand its entry into the global market and ultimately establish a position for a stock exchange listing in 2024.
Previously, Megazone Cloud established a "Cloudgram" joint venture with LG CNS in 2019. Megazone Cloud owned 65% of the shares. Their goal with LG CNS was to share the results of the national digital transformation with the public and financial sectors and jointly advance in the global market.
Last year, they also created the 'Definition' joint venture with Daekyo and the edutech company. Their plan was to expand into various business models by collaborating with edutech startups and education brands Daekyo. Daekyo held a 51% stake and Megazone Cloud held a 49% stake.
Earlier this year, they also completed a business combination report in Japan for a joint venture established with ITOCHU Techno-Solutions (CTC) in Japan. Megazone Cloud held a 51% stake. Megazone Cloud and ITOCHU Techno-Solutions have set a goal of reaching 1 trillion won in sales by 2025 in response to the sophistication and diversification of hybrid cloud services that are increasingly in demand in Japan.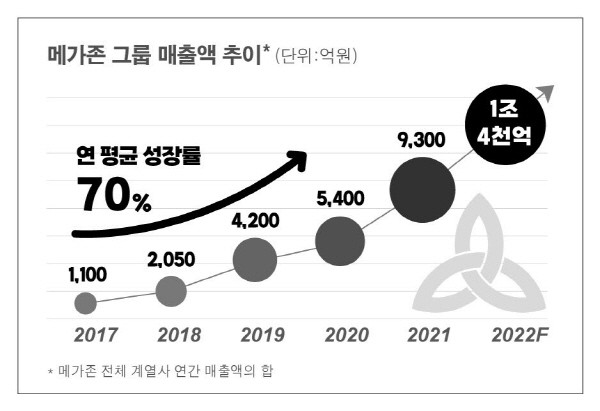 Megazone Cloud, which was spun off from its parent company Megazone in 2018, is Korea's leading managed cloud service provider (MSP) with 2,250 cloud-savvy employees. It provides cloud services through partnerships with major domestic and foreign cloud companies such as AWS, MS and more than 100 software companies. It recently completed a Series C investment worth 450 billion won.